There are many activities you can do in Kashmir, Kashmir has something for everyone to do and enjoy the Kashmir trip to the fullest.
1. Shikara Riding
Shikara or wooden boat trips in the Kashmir valley are the best way to admire and ride on the calm water of Dal Lake, not only the Dal lake but you can find this Shikara in every lake of Kashmir. The most famous place in Kashmir Valley where you can enjoy Shikara rides is the magnificent Dal Lake, which has beautiful scenery and incredible surroundings. While enjoying the Shikara ride, you can reach Nehru Park, Char Chinar Island, and a few hotels and restaurants along its shores.
Nigeen Lake is very calm, serene, and surrounded by snow-capped peaks, and treats you to magical views of sunrise and sunset. Enjoying the amazing views and surroundings of the lakes of Kashmir is the best feeling ever. You can enjoy an incredible sightseeing experience while riding a shikara. The feeling of water all around you is a feeling that can never be conveyed in words. Imagine the scenario in which your shikara is running above the calm lakes of Kashmir that have been contoured by the wide range of snow-scaped Mountains and an amazing sightseeing experience.
Where to do the Shikara Ride.
You can Experience the shikara ride in Kashmir's famous Dal Lake.
Nigeen Lake also offers Shikara Ride along with the other water bodies in Kashmir. Tripmore offers the best Shikara rides in the valley.
Rates of Shikara ride
2. Gandola Ride
Gulmarg Gondola, Asia's largest and tallest and the world's second-largest and second tallest cable car project, is the center of attention in Gulmarg. A trip to Gulmarg is considered incomplete without a ride on the popular cable car. This essential activity in Gulmarg is perfect for family vacationers, romantic couples as well as adventure seekers who want to go to the top of the mountain for the best skiing experience (in winter). The scenic views of the mountains and valleys are also unforgettable and unparalleled while riding the cable car.
The cable car ride takes place in three levels/stages.
Gondola Phase I: from the Gulmarg resort to Kongdori Station (2600 m) in the bowl-shaped Kongdori valley which takes 9 minutes to reach.
Gondola Phase II: from Kongdori Station to Kongdori Mountain (3747 m), the shoulder of Apharwat Peak which takes 12 minutes.
Phase III: The chairlift connects Kongdori to Mary Shoulder where many skiing events take place. It takes 11 minutes for the chairlift to go from one point to the other.
| | |
| --- | --- |
| PHASE | Cost of Ride (Per Person) |
| Phase I | INR 740 |
| Phase II | INR 950 |
| Chair lift for skiers and snow boarders (day pass) | INR 1500 |
3. House Boat Stay
Houseboats in Kashmir, known as floating houses, offer a unique option to stay. Anchored by two beautiful lakes in Srinagar, Dal, and Nigeen, the houseboat tour is perfect for people of all ages and all types of travelers. Staying In a houseboat is ideal for family vacations, honeymoon couples as well as alone travelers who can take the houseboat tour package to enjoy this special experience. Tourists can also enjoy shopping on houseboats, with many shopkeepers traveling around these floating busts and selling anything from Kashmiri handicrafts to Mouth-watering dishes. An overnight stay at one of the houseboats in Srinagar is something you can't easily forget. Houseboats in Kashmir provide the advantage of dining facilities, Wifi, and a high-quality luxurious experience. The houseboat accommodation facility in Jammu and Kashmir is perfect to experience if you are here with your family, group of friends, or your partner. You can book an unforgettable houseboat stay

Where to stay in Houseboats?
Dal Lake and Nigeen Lake are the best places to stay in a Houseboat as you will be able to discover Nature very keenly in these places.
4. Exploring the Wildlife of Kashmir
Jammu and Kashmir, "Paradise on Earth" is rich in wildlife and has a wide variety of flora and fauna that can be found here. Kashmir is also famous for its wildlife and tourists come here for its rich and captivating natural beauty. The Himalayas and sub-Himalayan mountain ranges are a pure and unique ecosystem where birds and rare animals can be found. You can visit any of these places to get a peek at the wildlife species of Kashmir:- Hems National Park, Kishtwar National Park, Dachigam National Park, Kazinag National Park, and Saleem Ali National Park.
Dachigam is known for protecting animals such as musk deer, Himalayan sero, leopard cat, jackal, mountain fox, long-tailed marmot, and Himalayan nest. The spotted birds are Cinnamon Bird, Manivet, Kashmir Fly Catcher, Black & Yellow Gross back, and others. It is also known for its waterfalls, shrubs, meadows, and alpine pastures. You can enjoy the beauty of Dachigam in our Self Drive cars at Tripmore.
The Hemis National Park preserves species of snow leopards, Asiatic Ibex, Bharal, Tibetan wolf, mountain weasel, and Himalayan marmot. One can spot rare birds from the Rumbak Valley such as streaked rosefinch, Tickell's leaf warbler, robin accentor, brown accentor, and chukar.
You can find Some rare species of animals like Hangul in these National parks.
Rates of exploring wildlife sanctuaries of Kashmir.
| | |
| --- | --- |
| Rate of full day pass for Dachigam National park | 100 |
5. Trekking/Hiking
Trekking is the most common activity in Kashmir if you are visiting Kashmir, then walking through the jungles of Kashmir is the best experience you can have in your life visiting places like Gangbal, Lake Tarsar, etc. after a few hours of walking brings a smile on the face and the feeling of reaching the destination gives you a joy that can not be explained in words.
Tripmore offers you the best guides to help you get through all these activities and make sure you enjoy your Kashmir tour to the fullest. There are many other activities you can do in Kashmir as Kashmir has something for everyone and this valley will surely make you fall in love with Kashmir.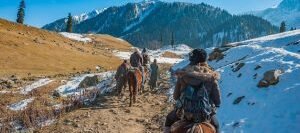 Where to do Trekking/Hiking?
You can take a trek to different places in Kashmir like Gangbal, Lake Tarsar, Naranag Mahlish Trek, Kolahoi Glacier Trek, Kashmir Alpine Lakes Trek, Sonmarg Vishansar Trek, etc. Kashmir gives a wide range of opportunities to trekking lovers they can roam around the mountains and explore the hidden beauty of Kashmir.
Rates for Trekking in Kashmir?
6. Camping
The beautiful valleys, meadows, and lakes in Jammu and Kashmir offer a host of outdoor activities for adventure lovers. Camping in Jammu & Kashmir is among the best activities that can be enjoyed even by family vacationers in some of the popular tourist attractions. The Kashmir region of the union territory stretching from the golden meadows of Sonmarg and the picturesque Pahalgam valley to the Great Lakes between the high Himalayan peaks offers ample opportunities for camping and adventure enthusiasts.
Over the years, camping in Kashmir has not only been popular among travelers but also among family vacationers who can enjoy camping in the valley with their children. There are some beautiful places in Kashmir where you can enjoy camping and some of the best places are:
For Families
Sonmarg, Gulmarg, Sanasar, Pahalgam
For Trekkers
Tarsar and Marsar Lakes in the Upper Dachigam area, Lidderwat, Sheshnag, Panchtarni, Baltal, Kashmir Great Lakes Trek.
7. Skiing And Snowboarding
Skiing in Kashmir is one of the most exciting winter sports adventure activities you can try during your vacation in Kashmir, as it gives you the adrenaline and ultimate enthusiasm of adventure enthusiasts.
Gulmarg is the most famous skiing destination in India, where you can feel the thrills and descend the slopes from an extraordinary height. The Gulmarg Gondola takes you to an amazing altitude of almost 4,000 meters from where you can walk downhill for about 5 kilometers. Adventure enthusiasts looking for the ultimate thrill can head to Shark Fin, which is believed to be the best powder skiing bowl. Located on the back of the great Apharwat mountain, it is a favorite slope for expert skiers.
Rates for Skiing in Kashmir?
| | |
| --- | --- |
| Skates | 2000/day |
| Snow boards | 2500/day |
8. River Rafting
Rafting on the White River is one of the most attractive activities to do in adventurous Kashmir. Speed thresholds here are light or moderate, which means that rafting in Kashmir is not very difficult. You can go rafting near Sonamarg. However, white water rafting on the Lidder River in Pahalgam is the most famous. Coordination of group work is an important feature in river rafting and you should also follow the safety instructions given by the instructors. Your boat cutting through waters gives an experience that is out of the world, You will never forget about the adventure of rafting in Kashmir.
Where to do Rafting?
The Lider Joy Ride (2.5 km) which is between Varganpal and Yaneer Bridge and has rapids ranging up to III, is ideal for beginners.
The Lider Long Ride (5 km), which is between Varganpal and Ganeshpora and has rapids ranging up to III, is also ideal for beginners.
The Lider Xtra Long Ride (12 km), which is from Langabal to Ganeshpora and has rapids ranging up to IV, is perfect for experts.
The Sind Joy Ride is approximately 3.5 kilometers that have rapids ranging up to II, perfect for beginners.
The Sindh Long Ride is approximately 7 kilometers and has rapids ranging up to II, ideal for beginners.
The Sind Extra Long Ride, which is approximately 24 kilometers long has rapids ranging from II to IV and thus is perfect for experts.
Rates of Rafting In Kashmir?
| | |
| --- | --- |
| Gandarbal river rafting 8kms | 1500 |
9. Paragliding
Paragliding in Kashmir gives tourists a view of beautiful villages and hills at an altitude of 2730 meters and beautiful, creepy views. Natural factors like excellent wind conditions and the Kashmir landscape are extremely suitable for Paragliding. A paraglider can go about 800-1000 meters altitude during its paragliding flight. Paragliding normally takes you on a tour of your majestic mountains and green valleys and Kashmir. Searching from above, you will find the view of your valley which is practically astonishing. Tourists can choose to glide over lakes, valleys, or mountains. One can choose to parachute with a pilot or can just go over the valleys, lakes, and mountains of these places. The most popular places for paragliding in Jammu and Kashmir Ashtanmarg
Rates of Paragliding in Kashmir?
| | |
| --- | --- |
| Astanmarg paragliding rate per person | 4000/guest |
10. Self Drive Safari
Taking a Self Drive car to the off roads in Kashmir is the best adventure. Tripmore gives the Self Drive Thar services which you can use to go off-roading in Kashmir. Off-roading in Kashmir is the best activity to do as one comes to explore the vast beauty hidden in the high reaches of Kashmir. Riding a 4X4 in the forests of Kashmir gives the feeling of real adventure and it is an amazing experience for one to have. A jeep safari is one of the funniest adventurous activities you can do in Jammu and Kashmir. Rivers, meadows, and waterfalls, as well as snowy regions of the state, can be reached and explored by jeep, making it a memorable experience. You can also meet various historical monuments, villages, and fortress ruins on a jeep safari. Tripmore offers the best self-drive cars for safaris and different types of adventures.
Rates of taking a Thar ride through Offroad?
| | |
| --- | --- |
| Mahindra thar | 5000/day |
| Mahindra XUV 500 | 5000/day |
| Scorpio | 6000/day |
| Royal Enfield Himalayan | 2200/day |
Book your Kashmir trip now on Tripmore and enjoy a wide range of adventures. Tripmore offers the best service at an affordable price.